HOU Futures Contract and General Transfers
Midland WTI American Gulf Coast (Contract Symbol: HOU) is a physically settled WTI crude oil futures contract traded on ICE and deliverable into the Magellan MEH Terminal or the Enterprise ECHO Terminal. Crude oil delivered against HOU must be Permian Basin originated WTI and meet the following specifications:
| | | | | |
| --- | --- | --- | --- | --- |
| Parameter: | Units: | Minimum: | Maximum: | Required Test Method: |
| API Gravity | °API, 60°F | 40.0 | 44.0 | ASTM D1298 or D5002 |
| Total Sulfur Content | % (m/m) | | 0.20 | ATSM D4294 |
| Mercaptan Sulfur | ppm Wt | | 75 | UOP 163 |
| RVP | Psi | | 9.0 | ATSM D6377 |
| BS&W | % (v/v) | | 1.0 | ATSM D4007 per API MPMS 10.4 |
| Nickel and Vanadium (combined) | mg/kg | | 3.0 | ATSM D5708, Procedure B or D8252 |
Magellan East Houston Terminal (MEH) to Enterprise ECHO Terminal Transfer Fee1:
Mismatched Buyer Transfer Fee2: $0.00 per barrel
General Transfer Fee3: $0.10 per barrel
To participate, customers must enter a nomination into Magellan's crude nomination system. New customers may request access to the system here: New Customers. Instructions for entering nominations are found here: MEH to ECHO Nomination Guide.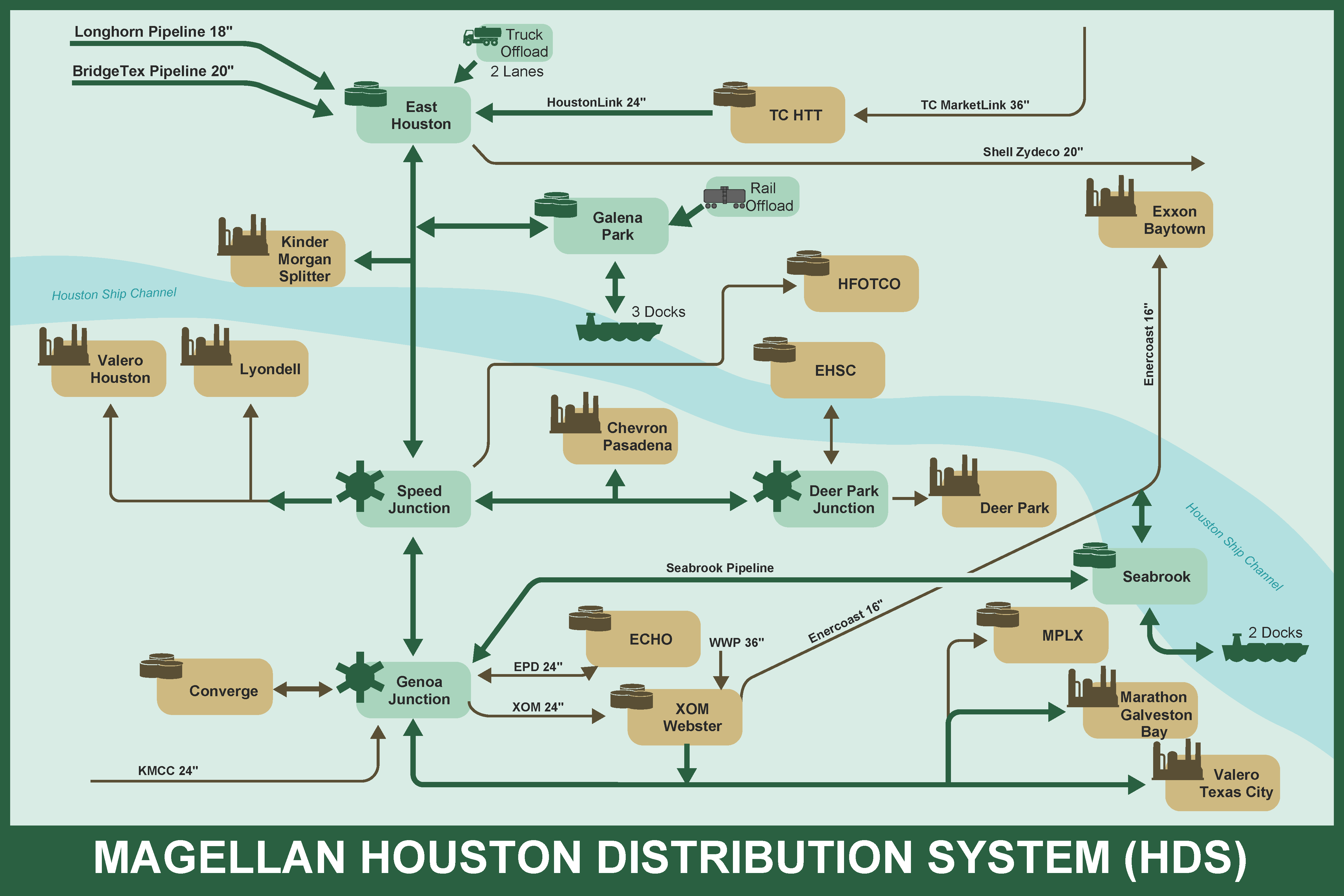 1Fees effective through December 31, 2023.
2A Mismatched Buyer is a Buyer of HOU that does not receive physical delivery at its preferred terminal. The Mismatched Buyer Transfer Fee applies to mismatched volumes transferred by a Mismatched Buyer to ECHO during the HOU delivery month. Mismatched volumes not transferred during the HOU delivery month are subject to the General Transfer Fee.
3Beginning March 1, 2022, customers who are not Mismatched Buyers may transfer crude oil from MEH to ECHO that meets both (i) the "WTI" definition in Magellan's tariff Texas No. 5.5.0 (including supplements thereto or reissues thereof) and (ii) the HOU Specifications in Section 7A1.5 of the ICE Contract Rules. A corresponding transfer mechanism to transfer crude oil meeting such specifications from ECHO to MEH is available within Enterprise's system. These general transfers are not limited to crude oil sourced from HOU.
4Rates effective February 1, 2022.
5Must be a Magellan Customer and logged into the customer portal to have access to this link.