To our neighbors:
Magellan aims to raise the awareness of our pipeline facilities and help the public better understand the role they can play in contributing to pipeline safety.
We will work with you to plan property improvements near Magellan's pipeline. We will respond if you call 811 to request we mark our lines on your property. We will conduct routine inspections and ongoing maintenance of the pipeline on your property and notify you of scheduled maintenance.
Please contact us and 811 prior to planning any type of construction project or planting near the pipeline right of way. The call to 811 is free and we will mark the line for free.
If you have questions about the pipeline on your property, would like development specifications, contact our non-emergency number 24 hours a day, seven days a week or email Bob.Miller@magellanlp.com.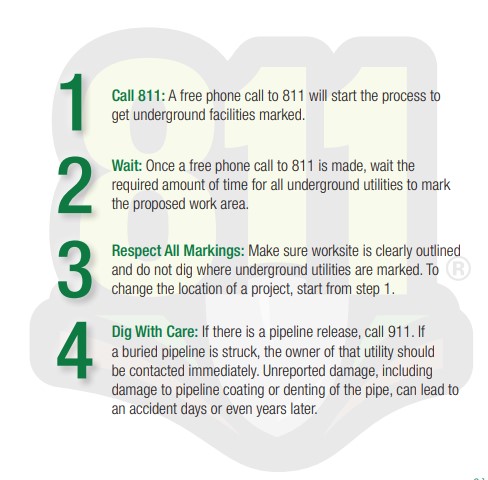 Pipeline Safety
You can do your part to maintain pipeline safety. The excavation decisions you make along the pipeline right-of-way affect the safety of the community. Before installing a new fence, planting a tree or for any type of excavation, make sure a call to 811 is part of the project plan every time. If the contractor does not list a call to 811 as one of the first steps of their plan, remind them to call 811 each time so they know that pipeline and property safety are important to you.
More information about pipeline safety can be found at:
Want to Learn More about Pipelines Operating in Your Community?
Visit the National Pipeline Mapping System (NPMS). This website provides a list of pipeline operators in your community as well as the location of pipelines and other valuable information. All information for Magellan Midstream Partners can be found under one of the following:
Magellan Pipeline Company
Magellan Crude Oil Pipeline
Magellan Pipeline Holdings
Magellan Terminals Holdings
Magellan Operating Company