Our commitment to safely transporting refined petroleum product and crude oil products via our pipeline system is fundamental to Magellan's business strategy and our success. We work diligently to ensure the safety of our employees, contractors and communities. Safety is the responsibility of every one of our more than 1,800 employees, wherever we work and live. We not only expect, but we empower every employee to stop any unsafe act. Our safety mindset is reinforced through our Code of Business Conduct and One Magellan operating tenets.
An important part of our internal culture is the One Magellan tenets, which contributes significantly to Magellan's operational foundation. Safety, efficiency, honesty and responsibility are at the core of our business. Our culture and character are demonstrated in the respect we show for our co-workers, our company and the communities in which we operate.

---
Accountability
We are accountable for our actions. Our practices and procedures are built on keeping people safe, keeping the product in the pipe and being in compliance. These same priorities inform our key safety and environmental performance metrics. These metrics include OSHA-recordable injuries, lost work time injuries and compliance metrics. Our performance on these metrics is reported to the Board of Directors quarterly, and contributes 25% of our target annual incentive program calculation which is applicable to every employee in the company, ensuring safety and compliance are priorities for all team members.
---
Continuous Improvement
We embrace the idea that the only difference between an incident and a near miss is the impact, not the cause. For this reason, we not only report and review all incidents but we also report and review near misses to mitigate the likelihood of it happening again and to foster a culture of critical assessment and continuous improvement.
---
Safety Committees
Magellan's field-based employees meet to review and actively discuss safety topics, including review of our near misses and lessons learned from across the organization. Led by non-management employees, our field-based safety committees are an integral part of our employee safety program and are instrumental in our continuous improvement process.
---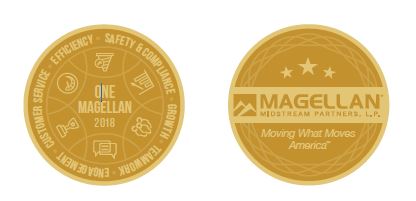 Celebrate Success
We regularly take time to celebrate those employees who exemplify behaviors and actions that promote safety and compliance in performing their jobs. From stopping an unauthorized third-party excavation near our assets, to recognizing and removing a potential hazard at the workplace, to coaching and mentoring new employees on the "right way" to perform tasks, up to 25 employees each quarter are awarded a One Magellan coin for going "above and beyond".
---
Environmental, Health & Safety

Environment

Safety Management System