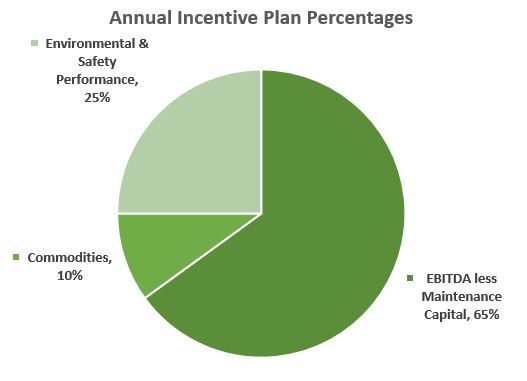 Magellan's commitment to our stakeholders is reinforced by our compensation philosophy and incentive plan design.
A collaborative culture.
All of our employees participate in the same annual incentive program (AIP), linking each employee to Magellan's performance. Whether success or failure, we all own it.
---
Importance of Environmental, Health and
Safety
(EHS) Stewardship. In addition to specific financial metrics, our AIP incorporates metrics that provide specific focus on EHS stewardship. These operational performance metrics encourage employees to prioritize safety, environmental performance and regulatory compliance as critical elements while operating Magellan's assets. We track factors such as worker and motor vehicle safety, pipeline safety, product quality, regulatory compliance and compliance management system task completion. These operational performance metrics make up 25% of the total AIP payout potential.
---
Alignment with unitholders. Long-term compensation in the form of Magellan equity interests constitutes a significant portion of the total potential compensation of our management team and the largest portion of the total potential compensation of our senior management team. The equity interests granted to our senior management team include both performance-based and time-based awards and have a three-year vesting period. The payout metric for the performance-based awards is distributable cash flow (DCF) per unit, which is a highly transparent number we report each quarter in our earnings releases and SEC filings. Because it is calculated on a per unit basis, our management team is rewarded only for pursuing long-term strategies that benefit our unitholders. To further connect our management's compensation to the return realized by our unitholders, long-term equity awards are adjusted up or down — as much as 50% of the award — based on our total unitholder return as compared to a select group of peers. Our compensation committee believes this long-term compensation structure retains, motivates and encourages long-term alignment of our management with unitholders by providing equity in our company over time using a transparent metric and peer comparison.
---
Company Structure
Board Committees


Board Oversight

Compliance & Ethics


Compensation